What if diabetics could enjoy food without limitations? Diabliss saw the potential to find a sweet solution to this bitter problem. An innovative herbal mixture was created that miraculously lowered glycemic index (GI) or reduced the blood sugar rise by 30%! Thus, the world's first low GI sugar was born in India – a nation with an unapologetic sweet tooth. Diabliss diabetic-friendly sugar empowers diabetics while keeping blood sugars at bay which is critical for pre-diabetics. With Diabliss, they can prepare their favorite sweets and meals at home so no food is off-limits! Rigorous product testing and development has been undertaken to ensure we deliver products that work for our customers.

Shop Online for Diabliss Herbal Products
After years of research and testing, we have prepared various extracts of Indian traditional herbs, spices, flowers, stems, barks, seeds, carefully grown in protected organic farms and forests.
These extracts of nature transform the normally available refined white sugars, food grains, and other products into perfectly healthy products that reduces post food blood sugars by lowering Glycemic Index (GI) without changing taste characteristics.
What is GI & Why Low GI foods are
good for Diabetics & Wellness?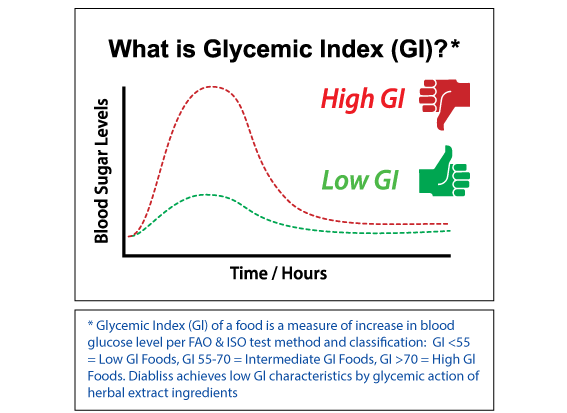 Glycemic Index or GI is the ranking of food on a scale of 0 to 100 based on how slowly or quickly they raise blood sugar levels after eating. The ingredients with a ranking of 55 or lower are called low glycemic index foods, medium glycemic index foods lie between 55 to 70 and foods above 70 are considered high on glycemic index. The American Diabetes Association (ADA) and other leading global medical research organizations have published numerous reports which state that a low glycemic index diet has many benefits. Most good foods for diabetics fall in the low glycemic index range. People can reap the following benefits with low glycemic index foods.

Manage Blood Sugar Levels
Low glycemic index foods do not cause sudden spikes and crashes in normal sugar level for diabetic patients.
Better Weight Management
Low GI foods increase satiety or feeling of fullness. Reducing hunger pangs can improve weight management for Type 2 Diabetes.

Lower Lipid Levels
Low glycemic index foods improve good cholesterol (HDL) and lower bad cholesterol (LDL).
Reduce Risk of Heart Disease
Low glycemic index foods improve lipids levels and reduce your risk for heart disease if you have diabetes.

Recommended foods for Diabetics & Prediabetics
Low glycemic index foods help reduce the risk of diabetes by keeping blood sugar levels in check. Low GI foods' low blood sugar spiking helps delay of progression from prediabetes to diabetes. Most good foods for diabetics are low on glycemic index.

Keep Metabolic Syndrome at Bay
Low glycemic index foods control blood pressure, lower abdominal obesity and maintain high blood sugar levels.
Diabliss Low GI Product Videos