Diabliss Herbal Water to Boost Immunity
Diabliss Herbal Water to Boost Immunity has been specially formulated with 15 herbs and spices used in Indian cuisine for 1000s of years.
Many of these ingredients are used in homes all across India during colds, coughs and flus and called Kashayam in South India (Sanskrit: kaṣāyaṁ) or Kadha in North India.  These herbal concoctions possess pungent taste and while very effective, are very difficult to consume on a daily basis.
Diabliss, with its patent pending technologies, has extracted all the required ingredients in a pleasing water form while delivering all the efficacy of our grand mothers' concoctions!
Immunity & Importance of Nutrition
A healthy and stable immune system is essential for our well-being. It protects our body against disease and other potentially damaging foreign bodies. When the immune system encounters a bacterium, virus, or parasite, it mounts an immune response and protects the body.  So, it is important to keep your immune system healthy and Diabliss Herbal Water is an ideal way to do so.
Nutrition and immunity have been linked to each other for centuries. Recent systematic studies have confirmed that nutrient deficiencies can alter the immune response and lead to a higher incidence of infections resulting in increased mortality, especially in children.
Thus, the best advice for a healthy immune system is to consume fruits, vegetables, herbs & spices containing Vitamin C, folic acid and other B vitamins, vitamins A and D, phytochemicals, and food fibres. They work in unison to keep the immune system functioning without over responsiveness (inflammation) or under responsiveness (illness).
Immunity Benefits from Ingredients used in Diabliss Herbal Water for Booting Immunity*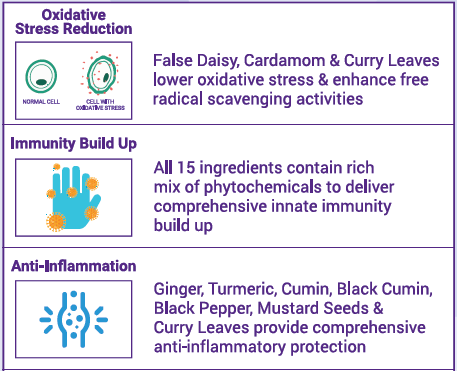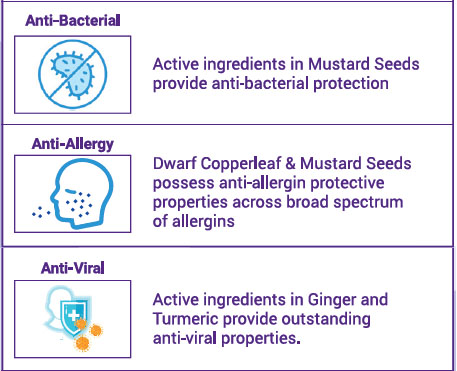 *Based on published clinical studies on individual herbs & spices.  Actual results from consuming Diabliss Herbal Waters for Immunity Boost may vary.
FAQ
Frequently asked questions
What is bio-availability?
The proportion of an ingredient which enters the blood circulation when introduced into the body is termed as bio-availability.
Why is bio-availability important?
As blood transports to every part of the body, foods and nutrients we consume are digested or converted into a water-soluble form which is the most effective pathway for the nutrients to be transported to various organs through the blood stream to deliver beneficial properties.
The human body contains over 60% water.  In human body, brain and heart are composed of 73% water, and the lungs are about 83% water. The skin contains 64% water, muscles and kidneys are 79%, and the bones are 31%.
As Diabliss Herbal Waters are uniquely created from a multi-component patent pending water-soluble technology, we are delivering outstanding efficacy and effectiveness due to high bio-availability and tackling multiple mechanisms of action.
What are benefits of Diabliss Herbal Water for Immunity Boost?
Diabliss Herbal Water for Immunity Boost uses selected food-based herbs and spices which are known to deliver immunity benefits. Clinical studies on these ingredients have shown them to provide the following immunity boosting properties:
Oxidative stress reduction through anti-oxidants
Anti-inflammation protection
Anti-bacterial Action
Immunity boost against allergens
Anti-viral immunity support
In addition, ingredients contain many additional nutraceuticals for various health and wellness benefits that have been documented in clinical studies. They include:
Heart & liver health
Weight reduction
Diabetic health & glycemic action
Skin care & hair care
Eye/retinal health
Neuroprotective responses
Stress management & relaxation
Anti-ageing properties
The benefits summarised here are based of published data on immunity benefits of various single ingredients. Actual benefits from consuming Diabliss Herbal Water for Immunity Boost may vary.
Can you substantiate with scientific data to back up your claims?
Diabliss Herbal Water for Immunity Boost has been tested in 15 adults and 10 children for a period of 6 months during peak flu season in 2019. The reports indicate zero incidence of colds, coughs and flus in the winter season. The herbal water is a special formulation in a pleasing taste which can be incorporated into daily milk consumption of children.
What are the ingredients used in Diabliss Herbal Water for Immunity Boost?
Diabliss Herbal Water for Immunity Boost is formulated with 100% water-based extracts derived from Purple Amaranth (Saag Marsa), Sessile Joyweed (Guadiri Saag), Ginger, Turmeric, Cumin, Black Cumin, Black Pepper, Fenugreek, Cinnamon, Mustard Seeds, False Daisy (Bhangra), Cardamom, Curry Leaves and Guava Leaves.
How should I consume Diabliss Herbal Water for Immunity Boost?
Diabliss Herbal Water for Immunity Boost can be consumed as follows:
Adults: 15 ml of the Herbal Water mixed in 500 ml of water consumed throughout the day, preferably in equal proportions during each meal (breakfast, lunch and dinner).
Children (18 years & younger): 5 ml of the Herbal Water mixed in 200 ml of cold or warm milk and consume twice a day.
Is Diabliss Herbal Water for Immunity Boost a Medication?
Diabliss Herbal Water for Immunity Boost is not a medication. It contains ingredients in a highly bio-available form derived from various herbs and spices to boost your immune health. It should be consumed throughout the year as indicated in the instructions to build a healthy and strong immune system.
Can I consume Immunity Boost herbal waters along with other herbal waters?
Diabliss Herbal Waters for Immunity Boost and other herbal waters are made with food grade herbs and spices which have been used in human cuisines for 1000s of years, thereby assuring safety.  The quantity of each of the herbs & spices used in the suggested daily quantity for both the herbal waters put together tends to be within FSSAI recommended limits.  As always, consumers should consult their physicians prior to starting consumption of Diabliss Herbal Waters.