Herbal Water to Manage Hypertension
Diabliss Herbal Water to manage Hypertension is made from outstanding ingredients which are known for their excellent properties to manage hypertension.  All ingredients are food grade herbs and spices that have been used for 1000s of years in cuisines from India and all over the world and therefore ensures 100% safety.
Ingredients used in Diabliss Herbal Waters for Hypertension Management are rich in minerals, anti-oxidants and known to provide anti-inflammatory and hyperlipidemic activities. They are also known to address oxidative stress and address atherosceloris which can in turn lower blood pressure values.
Globally, an estimated 26% of the world's population (972 million people) have hypertension, and the prevalence is expected to increase to 29% by 2025, driven largely by increases in economically developing nations.
In US, 45% of adult population is hypertensive and only 1 in 4 hypertensives have their BP within target ranges. In India, overall prevalence of hypertension is 29.8%, with 33.8% of Urban India and 27.8% of rural Indian being hypertensive.  Further, roughly 67% of the hypertensives do not realize they have this disease.  This is why hypertension is considered a silent killer.
High blood pressure is the primary causative factor for heart disease and stroke which represents almost 18 million deaths world wide – surpassing deaths from cancer by 2 to 1!
Human clinical trial was performed to evaluate the efficacy of Diabliss Herbal Water to Manage Hypertension in 50 hypertensive patients.  Among the 50 clinical trial participants, 25 subjects were new hypertensives, i.e., diagnosed with hypertension less than one year ago, with an average time from diagnosis of 8 months.  The balance 25 subjects were diagnosed with hypertension over two years ago and the average time from hypertension diagnosis was 7.8 years.
All subjects were over 45 years of age with an and the average age of 64.8 years.
The duration of study was 6 months (180 days).  The subjects continued their medications and supplemented their medications with 15 ml of the herbal water mixed with 500 ml of water and consumed throughout the day.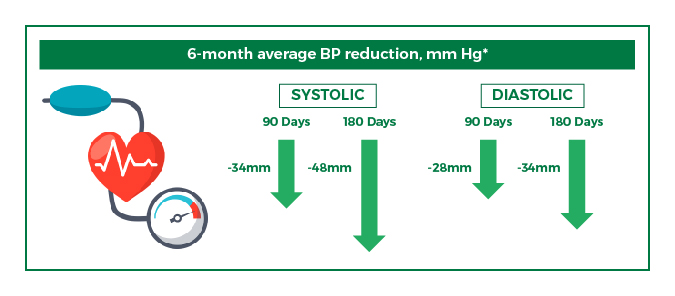 Systolic and Diastolic Blood Pressure of Clinical Trial Participants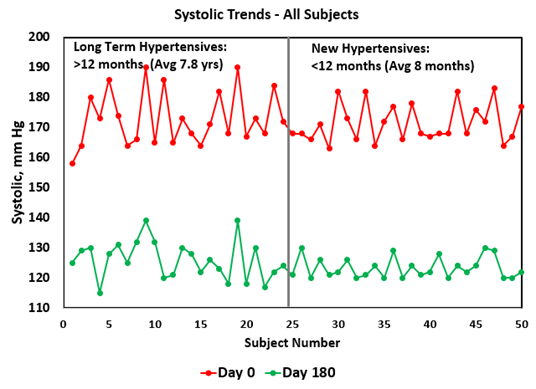 100% of the subjects showed reduction in systolic BP with all subjects heading towards ideal systolic BP value of 120 mm.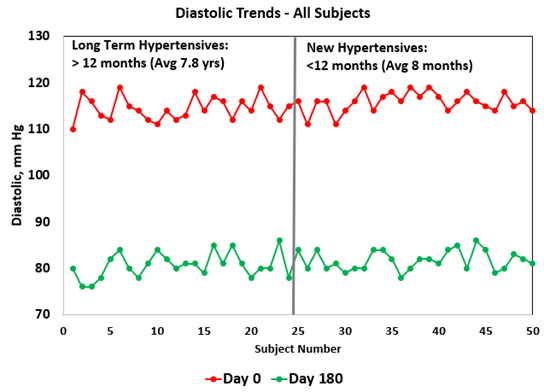 100% of the subjects showed reduction in systolic BP with all subjects heading towards ideal Diastolic BP value of 80 mm.
C-reactive protein (CRP) is produced by the liver and rises when there is inflammation in the body.  CRP test is not a test for heart disease but a test for inflammation in the body. CRP values is used an indicator of arterior stiffness or atherosceloris.

Average C-Reactive Protein was lowered by 9.1% among the 50-subjects by the end of the clinical trial.
10-year stroke risk reduction
The single largest factor from high blood pressure is the increase in risk factors relating to cardio vascular disease and stroke.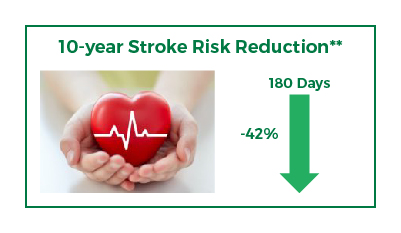 **The blood pressure reduction values of the 50 subjects participating in the clinical trial was used to calculate stroke risk reduction using American Heart Association method. It is shown for illustration purposes only. Actual reduction in stroke risk will depend on a variety of additional factors such as race, lifestyle risk factors, nutrition and genetic disposition.
Clinical Study Publication
Clinical trial data from 50 hypertensive subjects consuming Diabliss Herbal Water for Hypertension Management in addition to their medications was published in the International Journal of Herbal Medicine.
FAQ
Frequently asked questions
What is bio-availability?
The proportion of an ingredient which enters the blood circulation when introduced into the body is termed as bio-availability.
Why is bio-availability important?
As blood transports to every part of the body, foods and nutrients we consume are digested or converted into a water-soluble form which is the most effective pathway for the nutrients to be transported to various organs through the blood stream to deliver beneficial properties.
The human body contains over 60% water.  In human body, brain and heart are composed of 73% water, and the lungs are about 83% water. The skin contains 64% water, muscles and kidneys are 79%, and the bones are 31%.
As Diabliss Herbal Waters are uniquely created from a multi-component patent pending water-soluble technology, we are delivering outstanding efficacy and effectiveness due to high bio-availability and tackling multiple mechanisms of action.
Is Diabliss Herbal Water for managing hypertension a medication?
Diabliss Herbal Water for Managing Hypertension is not a medication. It is an adjuvant which provides support in managing hypertension along with current medications. Consumers should continue to follow their medical regimen prescribed by their physicians under continued monitored conditions.
Is Diabliss Herbal Water to Manage Hypertension safe?
Diabliss Herbal Water for Managing Hypertension is made with 100% herbs and spices. These traditional food herbs and spices have been used in Indian cuisine for 1000s of years and have also been studied by leading global medical research organizations for their safety and efficacy.
Can you substantiate with scientific data to back up your claims?
Unlike many herbal supplements who do not have actual clinical data on the efficacy of their herbal supplements, Diabliss has conducted human clinical trials with Diabliss Herbal Water for Managing Hypertension among 50 hypertensive patients for 180 days. While the clinical data have demonstrated substantial benefits, note that individual results may vary and consumers should continue to follow the regimen prescribed by their physicians under usual monitored conditions.
I am a non-hypertensive; can I consume Diabliss Herbal Water for Managing Hypertension?
The herbs and spices used in Diabliss Herbal Water for Managing Hypertension have many beneficial attributes for overall health and wellness when used in moderation. However, we recommend you to consult your physician prior to use of Diabliss Herbal Water for Managing Hypertension.
How does Diabliss Herbal Water for Managing Hypertension lower my risk factors from Hypertension?
Hypertension effects nearly 30% of the adult population in the world and also in India.  High blood pressure values greatly increase the risk factors including cardio vascular disease (CVD) and stroke.  Death from CVD is the single largest cause of death with almost 20 million deaths worldwide which can be attributed to CVD.  Large meta studies indicate studies indicate for every 20 mm Hg Systolic reduction, stroke risk reduces by half.  Clinical studies concluded by using Diabliss Herbal Water for Managing Hypertension lowered Systolic BP values by an average of 48 mm Hg and Diastolic values by an average of 34 mm Hg. While individual reduction in BP values may vary, lower BP values from consuming Herbal Water as adjuvant therapy can lower CVD risk factors.
How does Diabliss Herbal Water for Managing Hypertension compare with blood pressure lowering from medications?
Diabliss Herbal Water to Manage Hypertension cannot be compared with pharma drugs in terms of stand-alone efficacy.  While individual values may vary, Diabliss Herbal Water when used as a adjuvant along with your hypertension medications prescribed by your physician can provide excellent benefits in hypertension management.
I am a hypertensive and I also have type 2 diabetes. Can I consume both waters together?
Diabliss Herbal Waters for hypertension management and blood glucose management are made with food grade herbs and spices which have been used in human cuisines for 1000s of years, thereby assuring safety.  The quantity of each of the herbs & spices used in the suggested daily quantity for both the herbal waters put together is well within FSSAI recommended limits.  As always, consumers should consult their physicians prior to starting consumption of Diabliss Herbal Waters.