Herbal Water to Manage Blood Glucose
Diabliss formulated a multi-component herbal system using food-based herbs and spices to manage blood glucose.
The ingredients used in Diabliss herbal water formulation are well known for their antidiabetic, anti-inflammatory, anti-hyper lipidemic activity compounds. These ingredients are also known to contain actives that slow down glucose absorption, enhance insulin secretion & increase insulin sensitivity.
Diabetes & Pre-Diabetes in the world
Diabetes mellitus refers to a group of diseases that affect how our body uses blood sugar (glucose). Glucose is source of energy for the cells that make up muscles and tissues.
In 2020, 463 million people had diabetes in the world, 88 million people in the Southeast Asia region of which 77 million belong to India. The prevalence of diabetes in the population is 8.9%.
The estimated prevalence of prediabetes in India is 14%. Prediabetes is an asymptomatic disorder, so you might not even realise that you have it. Every year roughly 10% of the prediabetics in the world become diabetic. 70% of the prediabetics eventually become diabetic.
Lifestyle factors, nutrition and good control of blood glucose levels can all help towards delaying progression from pre-diabetic to diabetic.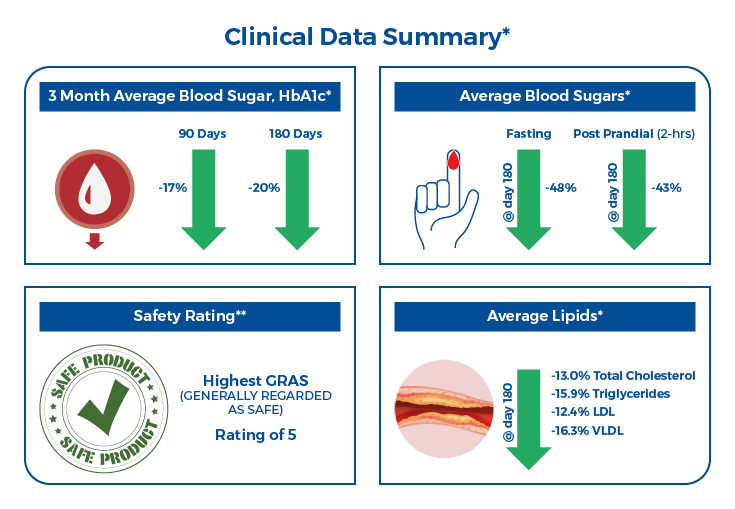 Human clinical trial was performed to evaluate the efficacy of Diabliss Herbal Water in 45 Type-II Diabetes mellitus patients for a period of 180 days. Both male and female patients were selected with age group ranging from 35-55 years.
All patients consumed herbal water and continued their current lifestyle, diet and medications during the clinical trial.
Clinical Study Publication
Clinical trial data from 45 type 2 diabetics consuming Diabliss Herbal Water for Managing Blood Glucose in addition to their medications was published in the World Journal of Pharmacy and Pharmaceutical Sciences.
FAQ
Frequently asked questions
What is bio-availability?
The proportion of an ingredient which enters the blood circulation when introduced into the body is termed as bio-availability.
Why is bio-availability important?
As blood transports to every part of the body, foods and nutrients we consume are digested or converted into a water-soluble form which is the most effective pathway for the nutrients to be transported to various organs through the blood stream to deliver beneficial properties.
The human body contains over 60% water.  In human body, brain and heart are composed of 73% water, and the lungs are about 83% water. The skin contains 64% water, muscles and kidneys are 79%, and the bones are 31%.
As Diabliss Herbal Waters are uniquely created from a multi-component patent pending water-soluble technology, we are delivering outstanding efficacy and effectiveness due to high bio-availability and tackling multiple mechanisms of action.
Is Diabliss Herbal Water for managing blood glucose a medication?
Diabliss Herbal Water for managing blood glucose is not a medication. It is an adjuvant which provides support in managing blood glucose levels among diabetics, pre-diabetics and wellness conscious consumers. Consumers should continue to follow their medical regimen prescribed by their physicians under continued monitored conditions.
Is Diabliss Herbal Water for managing blood glucose safe?
Diabliss Herbal Water for managing blood glucose is made with 100% herbs and spices. These traditional food herbs and spices have been used in Indian cuisine for 1000s of years and have also been studied by leading global medical research organizations for their safety and efficacy. In addition, Diabliss has also conducted sub-acute and acute animal studies which have shown to have the highest safety rating by GRAS (Generally Regarded as Safe) of 5.
Can you substantiate with scientific data to back up your claims?
Unlike many herbal supplements who do not have actual clinical data on the efficacy of their herbal supplements, Diabliss has conducted human clinical trials with Diabliss Herbal Water for Managing Blood Glucose among 45-type 2 diabetics for 180 days. While the clinical data have demonstrated substantial benefits, note that individual results may vary and consumers should continue to follow the regimen prescribed by their physicians under usual monitored conditions. Diabliss also published these clinical trials in a peer reviewed scientific journal which can be downloaded from this web page.
I am a non-diabetic, can I consume Diabliss Herbal Water for Managing Blood Glucose?
The herbs and spices used in Diabliss Herbal Water for Managing Blood Glucose deliver many beneficial attributes for overall health and wellness when used in moderation. However, we recommend you to consult your physician prior to use of Herbal Water for Managing Blood Glucose.
I am a pre-diabetic, can I consume Diabliss Herbal Water for Managing Blood Glucose?
Yes. Diabliss Herbal Water for Managing Blood Glucose has been formulated for diabetics and pre- diabetics. According to Centers for Disease Control & Prevention (CDC), Atlanta, USA, one of the major operating components of the Department of Health and Human Services, US Government:
Prediabetes = Prevent diabetes
According to Harvard Medical School, pre-diabetes is often called a "silent" condition because it usually has no symptoms. You can have pre-diabetes for several years without knowing it. Certain risk factors increase the chance that you have pre-diabetes. These risk factors include:
Being overweight
Being 45 years or older
A family history of diabetes
Low levels of high-density lipoprotein (HDL) cholesterol (the "good" cholesterol)
High triglycerides
High blood pressure
A history of gestational diabetes
If you have one or more of these risk factors, we believe Diabliss Herbal Water for Managing Blood Glucose can help you manage your blood glucose levels.
It is becoming increasingly important that managed blood glucose levels.
I am a diabetic and I also have hypertension condition. Can I consume both waters together?
Diabliss Herbal Waters for blood glucose management and hypertension management are made with food grade herbs and spices which have been used in human cuisines for 1000s of years, thereby assuring safety. The quantity of each of the herbs & spices used in the suggested daily quantity for both the herbal waters put together is well within FSSAI recommended limits. As always, consumers should consult their physicians prior to starting consumption of Diabliss Herbal Waters.